CENTER FOR ANDEAN MISSION TRAINING
CEFMA – HUANUCO 2015
Report by: Palerma Moreno
"The Andes and beyond, the world for Christ!"
How then shall they call on Him in whom they have not believed? And how shall they believe in Him of whom they have not heard? And how shall they hear without a preacher? And how shall they preach unless they are sent?
Romans 10:14-15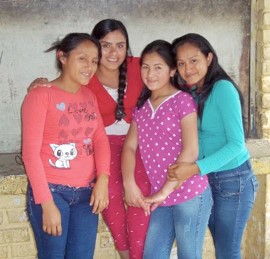 I want to share some of God's blessings that we experienced during the Youth Mission Summer School in January and February. In the middle of different challenges and difficulties, we started with the classes in the first week of January. We have been working to train Quechua and Peruvian youth to share the Gospel where the Lord calls for twenty years now. Over the course of these twenty years, I have experienced many challenges. Many times, I feel discouraged and don't feel like I have the strength to go on. The enemy threatens to destroy everything we have worked for, but God is faithful, He protects and sustains us. He protects His work. There have been so many blessings. I thank the Lord, our friends, and our brothers and sisters in Christ for the many ways they support us in this ministry.
Here in the class of Christian education, we were blessed to have over 40 participants. My thanks to everyone who supported this class, and a million thanks to Pastor Gabriel Agustini for his generosity and support and to sister Dora, who taught this class.
These seven young people, four young ladies and three young men, will graduate in 2016. They feel very proud. During the year they were working in their churches. They are from different places, but they are all Quechua speakers. In addition to their studies, these young men and women also learned to do other tasks such as preparing firewood, cooking, and cleaning. Clearly they will be ready for any task God gives them.
We finished classes the 28th of February, and we were blessed to have many pastors, missionaries, and previous students visit at this time. It was encouraging to see past students who are now working in ministry as pastors and missionaries. I thank the Lord for each one of them and their work.
God bless,
Palerma Moreno
E-mail: pali_moreno@yahoo.com
"Go into all the world and preach the gospel to every creature…" Mark 16:15