For the first time ever we did a women's conference from Sept 3-5, led by Palerma, in the jungle town of Oxapampa! An eleven hour bus ride from Lima, it is a community influenced by colonial European groups, jungle natives such as Ashenica and Yaneshas and also Quechua. Sherry and Melinda, two of our wonderful friends from the U.S. came down to help us teach at this conference! We always love partnering with friends from the U.S.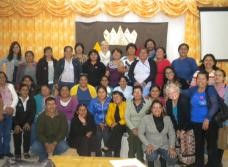 The theme of the conference was "Hijas Del Rey" (Daughters of the King) and "Mujer Samaritana" (The Samaritan Woman). Both of the these themes were very influential for the women.
We used different colors to signify certain things and communicate the value of the women of God.
Purple: I am chosen
Red: I am forgiven
Blue: I am a daughter
Green: I am a new creation
Pink: I have eternal security
The women were surprised and blessed to come to an understanding of who they were as daughters of the King! During the nights we celebrated, each group of women bringing different songs or musical talents to praise God.
The last day of the conference we talked about the life of the Samaritan woman and her personal encounter with Jesus Christ. Even though the woman was an outcast of society she was restored by Jesus to a useful ministry. She was the one who brought the good news of Jesus to the town who rejected her.

I asked the women if they wanted to be used by the Lord and they responded that they did!

I realized that these women carried many emotional wounds. All the women, and even some men fell onto their knees with tears, pleading for forgiveness and healing. We prayed and confessed to God and eachother. I could see their faces were covered with joy.

One woman said, "I was like the Samaritan woman, but now I am free. I am not afraid of anything and I'm going to ask forgiveness from my neighbor because for a long time I have held hatred in my heart, not knowing that I should forgive."

I just praise God. He blesses richly.

-Palerma