Dear friends and family,
Below is a summary of Runa Simi ministry during the 2017 year. We thank you all for your continued prayer and support during this last year. God bless you all on this new year!
Area of Communications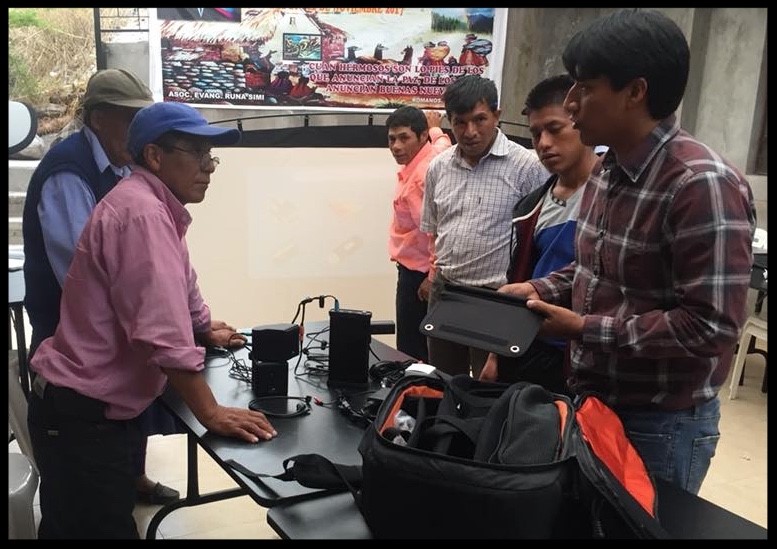 Radio
Workshops were held to teach Quechua speaking radio broadcasters how to record, edit, produce and present radio programs using modern methods and to promote music and the Psalms both in radio broadcasts and in the Church.  One workshop took place in Llata, Huanuco, and another, emphasizing music, was taught in Chazuta, San Martin. Another major event for radio was the 'Radio Communicator Conference' held at the Runa Simi Center in Chosica.
Runa Simi also helps with the founding, installation and maintenance of Quechua radio stations.  During 2017, Dany Parado traveled to help maintain equipment at the URVC Quechua radio station in Llata and also helped the radio station LOGOS in Chazuta to repair their cables.  He visited the radio station RESCATE in Huancayo to check their equipment.  He helped to purchase equipment and materials for the 3 stations.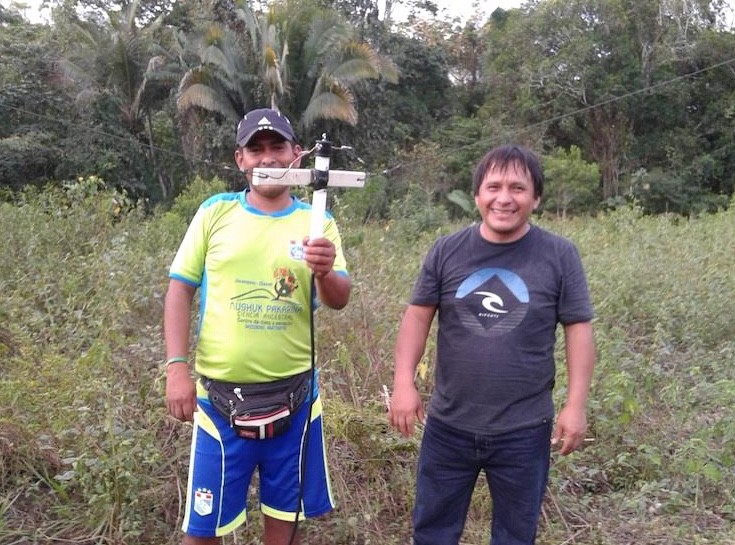 New Testament Audio Recordings
Nemesio Arango is collaborating with the recording of audio New Testaments in different languages. In 2017 he traveled to Spain to record the dramatized New Testament in the Euskera language. Nemesio worked with 60 voice actors to create these recordings.
Recording Studio
46 SD cards were prepared for use with the "In Touch" Messenger players.  These were loaded with the complete Ayacucho Quechua Bible, Quechua Hymns and God Story.  Some were also loaded with New Testaments of other Peruvian dialect and language New Testaments:  Ashaninka, Cuzco, San Martin, Huanuco, and Aymara.  Some of the SD cards were also loaded with videos: Jesus Film, Luke, Genesis, God Story.  36 Bible stories were processed for use with the puppet ministry, 7 new stories have been recorded.  The recording studio was updated with new carpet, painted and other maintenance.
Bible Promotion (photo frames)
Discipleship meetings were held by Runa Simi (Samuel Saccsara) for 60 Bible promoters who have been faithfully preaching the Word of God in different communities with the photo frames. These leaders have also led many to Christ. Over 200 promoters continue showing evangelistic and discipleship videos. This year Samuel Saccsara, working with Runa Simi, taught 2 basic workshops in the city of Ayacucho and also a pastor/leader conference to encourage those working in this ministry.
Faith Comes by Hearing
Alfredo Fajardo coordinated the "Faith Comes by Hearing" programs for Hosanna.  Proclaimers were distributed, and leaders were trained in the Peruvian "states" or "departamentos" of Ayacucho, Cuzco, Puno, Huancayo, Huancavelica, and Apurimac. There are approximately 6000 families who listen to these audio bibles daily. 350 new proclaimers were distributed which benefit 350 communities and 850 churches which are dedicated to listening to the Word of God.
Alfredo also hosts a daily radio program at 5 a.m. in the city of Ayacucho. He broadcasts evangelistic messages in Quechua and promotes the "Faith Comes by Hearing" audio Bible program.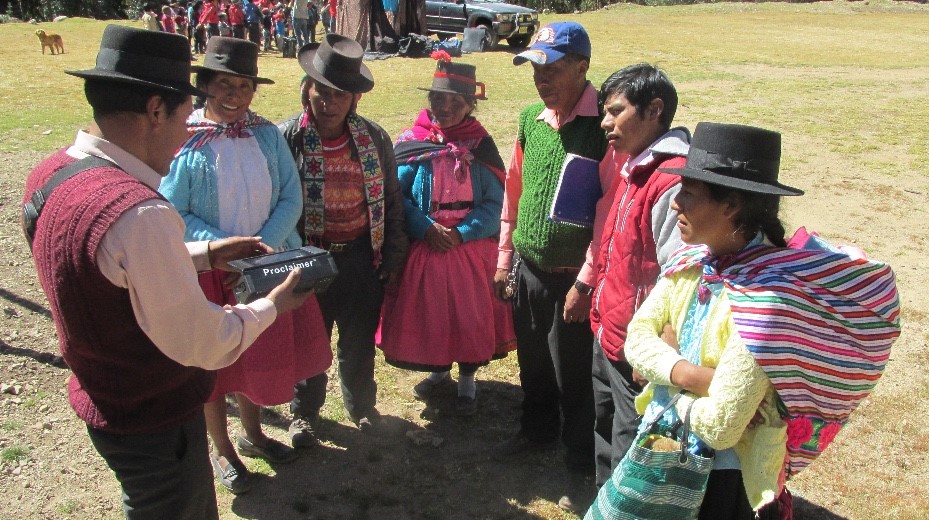 One Hope Project
Pablo and Kusi Saccsara continue to head up the "One Hope" project for children.  In 2017, the GodMan video was shown in 220 Quechua communities.  The "One Hope" booklets were distributed in 10 Peruvian states or "departamentos". In this way, thousands of children were reached with the Gospel message in Spanish, Quechua, and in other languages of Peru.
Special Runa Simi Video Project
With the participation of all of the Runa Simi members, a new video was filmed by "Boldfish" about the ministry of Runa Simi and its outreach with the Word of God to the peoples of Peru in their own mother tongues.  It is in the process of being edited and produced.
Impact of Communications Area
Audio/visual ministry continues to be important for the evangelization and spiritual growth of the Quechua and other indigenous groups. Many Quechuas cannot read, but are powerfully impacted when they experience these materials which speak to them in their own language. In towns where radio stations have started to work, the church has awakened and is growing. The self-esteem of Quechuas also grows as they listen to the Word of God. There are new leaders excited to travel and evangelize using the Photo Frames. Children and adults, alike, are attracted to the videos and excited to learn about the Biblical stories when they see that Jesus speaks their language. Also, many families huddle around proclaimers to listen to the Bible every day before going to work in the fields. For many, it is their only access to the Scriptures.
Area of Training and Discipleship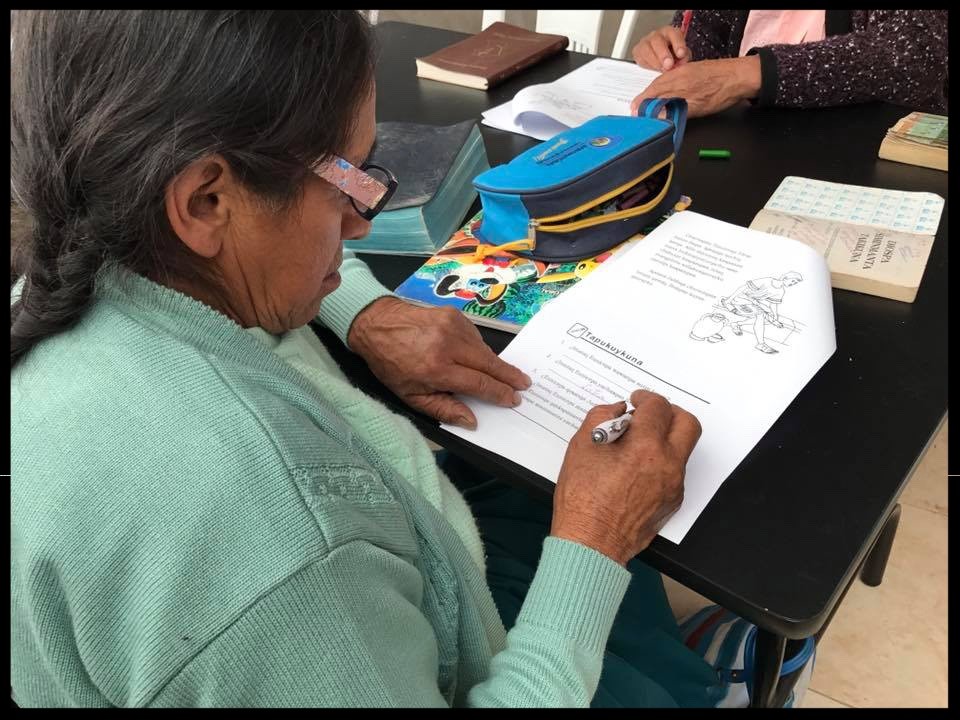 Train and Multiply
Samuel Saccsara held training workshops for leaders and pastors, teaching them how to study and teach the Bible in their own languages. The Train and Multiply method gives leaders the know-how and materials needed to produce Bible studies and teach others to reproduce them. 6 workshops were held with 109 leaders participating from 60 communities.
Marriage and Family
Kusi and Pablo Saccsara taught two workshops on the topic "Building Families that Reflect Christ."  They taught a workshop in Tarapoto to 25 attendees and another in Ayacucho at the Women's Conference.  Each leader was given materials to use for teaching in their communities. Some of the women leaders who were invited to the Women's Conference were accompanied by their husbands.
Training for Women
Palerma Moreno and Rosa de Saccsara held five workshops this year to train women leaders from different communities. Two were Women of The Bible workshops held in Ayacucho. The women who attended the WTB workshops studied the Biblical stories in which God uses women to bring glory to Himself.  Three other Bible study workshops were held in Chazuta, Huanpica, and in Nazca.  Two women's conferences were also held for women leaders in Chosica and Ayacucho with the themes "A Living Hope" and "Jehova Rafa".  A total of 320 women attended these events.
SALT (SETE)
This training is done through the partnership of Runa Simi and SALT. The ministry prepares leaders and lay pastors from Quechua villages, through Biblical and theological study, to better lead their churches and communities. This year, trainings were held in the cities of Ayacucho and Chosica with the participation of three visiting teachers: Prof. Dick Lawyer, Dr. David Hard, and Prof. James Stockwell.  Trainings were concentrated on "The Biblical Foundation of Missions", "Roots of our Faith", "Names of God".
Training for Youth Leaders
Every year, more young leaders are committed to taking the Gospel to their communities. They receive training from Runa Simi through conferences and workshops. Miguel Saccsara coordinated events for Quechua youth. In 2017, 4 workshops were held, 2 in Ayacucho and 2 in Tarapoto.   Many of the youth who have been involved with this project have started up their own Bible studies, using the materials that Runa Simi prepares for them, in their own communities. The yearly conference was held in Chosica with 35 attending from 6 "departments" of Peru.

Area of Evangelism
Puppet Evangelism
Nemesio and Alicia Arango partner with the youth leaders from the Quirio Quechua church to reach children all over Peru through evangelistic puppet shows and subsequent discipleship. Over the last few years, demand for these shows has grown exponentially. The Puppet Team is invited to perform by diverse institutions, including churches, municipalities, and secular schools. Also, many churches have asked Nemesio Arango to help them develop their own puppet ministries.  In 2017, the puppet team traveled to 6 regions of Peru and did 53 presentations with evangelism.  10,878 children heard the Gospel.  They also held training workshops for church leaders who learned to make their own puppet shows. There are 7 puppet teams working in Peru.
One Hope
This year Pablo and Kusi Saccsara continued distributing evangelistic and Bible study materials to Sunday school teachers and community leaders. Kusi and Pablo taught the leaders to use the materials while they evangelized together.  The Book of Hope was distributed in 11 Peruvian states. Many children were evangelized with the materials in indigenous languages, and in Spanish.  (see also the One Hope ministry with video)

Area of Literacy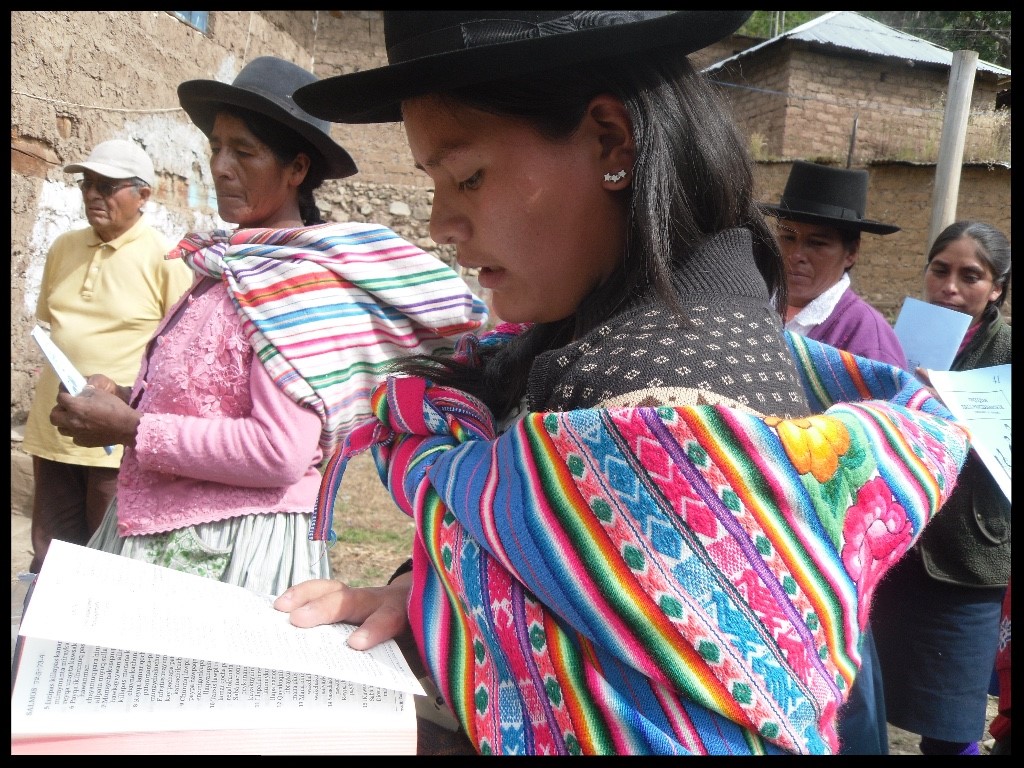 There are still many church members who are not able to read God´s Word for themselves since they are illiterate.  Runa Simi has a Bible based literacy program that targets women who speak the Quechua Ayacucho language.  This language is spoken in the Peruvian states of Ayacucho, Apurimac and Huancavelica where illiteracy is at its highest in the Andean churches.  During 2017, Bertha Ccoicca, Hilda Huarcaya, and Carmen Jauregui held 7 training sessions for literacy teachers who are teaching "Learning to Read God´s Word". Three of those were for new literacy training programs in 15 new churches.  16 other Bible workshops were held to promote reading.  75 churches participated with a total of 391 participants of all ages.  Hundreds of literacy groups have become Bible study groups using the Train and Multiply materials in Quechua. 42 new readers received Quechua Bibles.
Area of Translation
Translation of materials into the Ayacucho Quechua language is an ongoing ministry coordinated by Hilda Huarcaya.  Materials are needed for all of Runa Simi´s ministries.  These include evangelistic and discipleship materials, literacy materials, sometimes audio and video scripts, and the translation of information for Runa Simi´s webpage.  Some of the materials produced this year were: "Intercession in the Church" a booklet in Quechua, and materials for the puppet team.  All of the Quechua "Patterson" Bible study booklets went through a revision.  Train and Multiply materials were also printed in both Spanish and Ayacucho Quechua for use with beginning and continuing readers.
Area of Health
There was one medical/evangelistic trip this year sponsored by a U.S. church. It took place in Curamba, Cuzco as part of an evangelistic outreach with the goal of planting a church in that area where none exist.  Worm meds and vitamins were distributed.